Commodities Trading tools and education
---
Common Sense Commodites is the #1 course available for beginning and intermediate commodity futures traders. Starting from the beginning of how to look at a chart, full technical analysis training, indicators, study charts, with multi-media video explaining the whole 450 page course, and David Duty's favourite trade methods. Click on the image to try a free introduction to the course.





---
<!- BEGIN GECKO BANNER CODE ->

<!- END GECKO BANNER CODE ->
Track 'n' Trade Pro is the flagship product of Gecko Software, and has given traders a high-powered, fully-feature rich stand alone platform for trading commodity futures and options for over 6 years now.
TNT (Track 'n Trade) is used as a complete trading program with daily data downloads of 110 commodity choices and also as an eye-opening trade simulator with 25 years of back data for testing. Combined and open outcry data is included and also electronic mini's.
I bought this program myself several years ago, and it runs easily on my ten year old 350 Mhz Dell computer with dial-up internet service. (I do have high speed cable now, but save the old box for testing programs). When the program is first fired up, the back data will take about an hour and a half to download on dial-up, after that the daily data takes just a few minutes. Once the daily data is downloaded, the internet connection is no longer needed for your analysis. So you don't need a dual Pentium desktop monster with 4 screens to run Track 'n Trade Pro.
All features of the program are customizable to your own preferences, from screen background colours to the appearance of drawing tools and indicators. The tools are displayed in layers, so can be moved in front or behind each other. Trend drawing tools can be moved, lengthened, and combined. Many automatic and adjustable tools include basic lines, text, circles, 1-2-3 display, channels, triangles, fans, head and shoulders, zig-zag, and more. Built-in patterns include Elliot Wave, dart/blip, Andrews Pitchfork, Fibonacci retracements, arcs and time zones, Gann fans...
All standard indicators are present: MACD, Stochastics, Momentum, CCI, %R, ADX, Pivot Points, Bollinger Bands and more. All are fully customizable as well.
TNT is the greatest educational tool I know of for paper trading, testing your strategies offline. The daily, weekly and monthly commodity charts are easily scalable and can be stepped forward and backward manually or automatically to watch your trade play out profit by profit.
Click the links below for more information and a video tour. All links open in a new window.
Available plugins include:
<!- BEGIN GECKO PLUG-IN CODE ->
<!- END GECKO COUPON CODE ->
The Accounting/Simulator plugin for tracking your current live accounts and profit/loss in a simulation.
<!- BEGIN GECKO PLUG-IN CODE ->
<!- END GECKO COUPON CODE ->
The Commitment of Traders Indicator lets you know the movers and shakers that are long or short, the overall picture behind the scenes that drives the market!
<!- BEGIN GECKO PLUG-IN CODE ->
<!- END GECKO COUPON CODE ->
The Options plugin to place your put and call options orders directly onto the futures chart window. P/L and account data is recorded directly in to the Accounting module.
<!- BEGIN GECKO PLUG-IN CODE ->
<!- END GECKO COUPON CODE ->
The Seasonals Indicator takes fundamentals to a whole new level. Track historical trends and seasonal data for grains and others with a charted indicator, so you never trade against seasonal trends that happen every year.
<!- BEGIN GECKO PLUG-IN CODE ->
<!- END GECKO COUPON CODE ->
The Spreads plugin will show you a spread between two commodities, and let you place the trade directly on the chart, with your P/L tallied in the Accounting plugin.
<!- BEGIN GECKO PLUG-IN CODE ->
<!- END GECKO COUPON CODE ->
The Bulls 'n Bears Trading System The Red Light, Green Light Blue Light trading system and method takes complex guesswork out of trade analysis. Fully customizable with over 3 hours of video training included, this module can be used to build your own mechanical system. This is Track 'n Trades newest addition, and I will have a review posted soon on the blog. I'm excited about this one. It can be used for Track 'n Trade Pro as well as Track 'n Trade High Finance for Stocks and Forex.
Track 'n Trade Pro has a 30 Day Trial available by download or by mailed cd. Give it a test drive for free to see how it makes successful trading possible.
<!- BEGIN GECKO BANNER CODE ->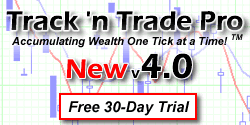 <!- END GECKO BANNER CODE ->